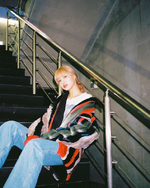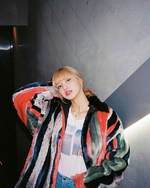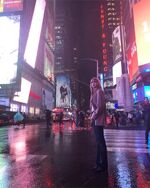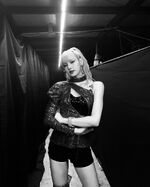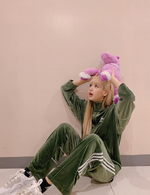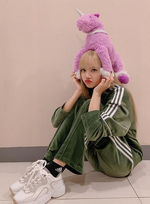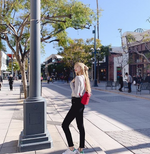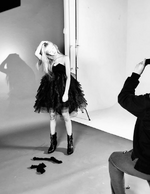 The reason why she changed her legal first name from 'Pranpriya' to 'Lalisa', was because during a consultation with a Fortune Teller, she was told that the latter name would give her luck, 'Lalisa' means 'one who will recieve praises' in Thai.
She placed #41 in TC Candler's Most Beautiful Faces 2016, #15 in 2017, #9 in 2018.
She is known as the maknae in the group.
Her nicknames are Lalice, Laliz, Pokpak, Flying Lisa, RyeoLisa, Elephant Lisa, Jolisa, Limario, Royal Maknae, Lisa Oppa, Ponytail Rapper (in Coachella 2019)
She passed the YG audition that was held in Thailand in 2010, she was the only person accepted out of 4,000 people in Thailand.
She became an official YG trainee in April 2011 when she was only 14 years old.
She was 19 when she debuted as a member in BLACKPINK back in August 2016. She trained for 5 years and 3 months.
She is trypanophobic, meaning she is petrified of needles, to the point that she passed out when getting immunizations with Rosé.
She studies Chinese with books written in Korean instead of English.
She had a hard time communicating in her early stages as a trainee because the only Korean word she knew was Annyeonghaseyo (means Hello) but the members helped her become fluent along with a Korean teacher, and at one point she was forced to speak Korean.
Her favourite song from Square Up is "Forever Young"
She's fond of french fries.
She becomes happy when she dances.
She knows how to box.
She is described as BLACKPINK's happy pill.
She appeared with YG Entertainment stars in the ad for the fashion brand NONAGON in 2014.
She appeared in BigBang Taeyang's MV called Ringa Linga along with WINNER Mino and Taehyun and iKON B.I. and Bobby in 2014.
She becomes sad when she is away from her family.
She's YG's first non-Korean artist.
Her current favorite color is yellow.
She often gets tired from working a lot.
She was a trainee at YG for more than 5 years.
She auditioned due to her dancing skills.
She's most confident in dancing while performing.
She's fluent in Thai, Korean and English but she can speak some Japanese and basic Chinese.
She looks up to her YG sunbaes, especially Big Bang and 2NE1
She plays the ukulele and guitar.
Her bandmates claimed that Lisa likes to spend her money a lot and treats them 'like meat' when she has money.
When she lived in Thailand she had two vocal coaches named OP and Kan.
Her step-father is a known chef. He is of German Swiss heritage.
Despite her background, Lisa cannot cook.
She attended Praphamontree II School in Thailand.
Her ideal type is: Older guys, of course, not someone too old, but someone who knows how to cook and would be able to take good care of her.
There was a rumor that her parents had a hospital, but they didn't.
In an interview she said she prefers cute guys rather than sexy guys.
She had her own reality show called "Lisa TV".
She moved to South Korea when she was 14.
She owns six cats Leo, Luca, Hunter, Lily, Louis, Tiger and Lego
Her dream job when she was younger was to either be a flight attendant or dance teacher.
If she didn't become an artist, then she would have gone to Australia to study.
Her favorite flowers are pink roses.
Her favorite artist/role model is Kehlani and her favorite song is "Honey" by Kehlani.
She is friends with a singer, NIKI
Her favorite place in Thailand is Siam and her favorite place in Japan is Harajuku.
Her favorite time as a trainee was choreographing dances with the other members.
She said she regrets having a boyish cut hair when she auditioned for YG.
Her fashion style is casual/street.
She was in a dance group called We Zaa Cool when she was 9-12 in Thailand along with GOT7's BamBam and NCT's Ten.
She's a part of a groupchat where only Thai idols are added, that includes CLC's Sorn, (G)idle's Minnie, GOT7's BamBam, NCT's Ten and 2PM's Nickhun.
She and Minnie both like photography and collecting film cameras.
She was supposed to be a Vocalist if PINKPUNK (was once a 9 membered group) debuted instead of BLACKPINK.
Her most charming moments are when she laughs.
Her favorite movie is "About Time" and her favorite book is "Little Prince".
If Lisa could be any Disney princess she would be Rapunzel.
Her hobby is watching movies and taking pictures.
Her favorite number is 27 as it is her birth date.
She wants to live in a house with a huge backyard in the future.
Her favorite hair style since she debuted was her blonde hair.
When she feels sad, she hugs her pet and cries, after that she feels alright.
She enjoys eating chicken with the other members in the dorm.
She feels proud being an idol whenever she sees blinks smiling.
She loves snowboarding and watching it on the Olympics.
The biggest thing that has ever happened to her since she joined entertainment business was BLACKPINK's MV being featured in Justice League.
She loves cubic nails.
Whenever BLACKPINK has a schedule overseas she brings her charger with her.
She has sleep paralysis.
She 50/50 believes in fortune telling.
Aside from dancing and rapping she enjoys drawing pictures of cats.
She said that her sixth sense is rhythm.
Her favorite cake is Red Velvet.
At school she was good at science but bad at math.
If she had 100 million dollars she would travel the world.
She wants her last meal to be Sushi.
If she had one week off from work, she wants to travel to Switzerland with her parents.
She loves Coca Cola.
Her advice from the past is to "Enjoy living life to the fullest".
Her favorite drama recently is "Stranger Things".
If it's possible to go back to the past, she wants to go back to her 18 year old self.
She wants to be born as a girl again in her next life.
Before performing she feels very nervous so she keeps telling herself, "It's okay, I can do this, I can do it perfectly".
Before she dies she wants to go skydiving.
If she had the chance of being a boy for the day, she would date all the blackpink girls.
She wants to perform with Kehlani someday.
She likes to buy Kinder eggs as they have toys inside.
She is scared of ghosts and snakes and hates them.
She feels happy when is eating lots of food.
Her advice to those who want to join YG is, "Be yourself and have confidence, show them all your charms".
She likes to move her body a lot and that's why she couldn't stand straight for a long time.
Her favorite restaurant is "Wolfgang Steakhouse".
Her favorite pastry is croissants.
She sleeps 9 hours a day.
She said that she couldn't sleep one night, she listened to Hope Not by BLACKPINK before watching the Disney movie Zootopia.
She likes to collect lipsticks.
She feels very happy when her step father makes breakfast for her.
Her favorite Korean dish is Gamjatang, her favorite Japanese dish is Tempura and her favorite Thai dish is Pad Ka Pow.
She focuses on putting on face masks when it comes to skincare.
She likes to wear comfy pajamas to bed.
She is good at making Pad Thai.
She wants to try a hairstyle without bangs.
She drinks water as soon as she wakes up.
She wants to appear on a Japanese show called "Toudaiou" (a quiz variety show for college students who at attend Tokyo universities vs celebrities).
Her favorite interior is cute lighting with sweet deciration.
She once failed on buying a fur hat.
She thinks the way Japanese blinks speak is cute.
She usually plays Nintendo and listens to music.
She owns a Nintendo Switch.
If she can't sleep she faces the other side of her bed.
She gets her energy from eating lots of yummy food.
She learned Korean by watching a lot of dramas.
When she was a trainee, she loved her Korean lessons.
She loves online shopping.
She said that she is thankful for her mother for letting her attend dance lessons.
She started rapping when she was a trainee.
Her favorite place in Korea is Hongdae. Blackpink House was in Hongdae for 100 days.
Her favorite Disney Movie is Tangled.
She wanted to visit Italy, and on 20 February, 2020, she got to go to Milan, Italy for Milan Fashion Week.
A fashion item that has her attention right now is bucket hats.
A fashion item that she collects a lot without thinking about it is hoodies with other people's faces printed on them.
If she was a boy, she would date Jennie because she's hot.
She said her closest member in the group is Rosé because they' have similar ages and they understand each other very well.
If she could go to the future she would want to be 40.
A song that she always sings when doing karaoke is "You Belong With Me" by Taylor Swift.
Between heat and the cold, she can't bare the heat.
If she was a Korean highschool girl, the 2 things she wants to try out is wearing a uniformwhisk and go to karaoke.
She is childhood friends with GOT7's BamBam since they were 9.
She was originally supposed to study abroad in Australia, but then that plan changed after she passed the YG audition in 2010.
Her favorite season is summer.
She said that when she returns after a day at work, she feels happy to see her cat Leo waiting for her at the front door.
She can learn and memorize a dance (mostly the chorus part) by viewing it once.
One of South Korea's famous choreographers said that Lisa memorized a whole choreography in less than an hour.
Her favorite outfit from the Ddu-Du Ddu-Du MV is the sparkly belt.
She usually takes pictures of the members and her cats.
She appeared on 'Real Men 3'. Bambam also appeared in Real Men, but in a different series with Jackson of GOT7.
She likes to eat Japanese food such as sushi, tempura and don.
When she has nothing to do, she likes to watch American dramas and movies.
She likes eating around at other peoples houses.
She is the first Kpop female idol to get 2 million likes on a post in just 2 days.
She likes to change her hair color.
Her step dad is from Switzerland so she really loves the food and the mountains in Switzerland.
She wrote her friends a friendship book when she was in 5th grade.
A former classmate of Lisa said that she always 'shares' her answers to her seatmate.
She loves makeup.
If she wasn't a singer then she would be a photographer.
Her childhood dream was to become a model.
Her favorite k-drama genre is romcom.
Her favorite American movie genre is action.
She is a fan of Avengers and Thor is her favorite.
She likes milk tea and ice cream.
She has always been a big fan of YG entertainment.
She was crying when she first signed a contract with YG.
She watches Disney Animations with loads of songs to de-stress.
She was dubbed one of the "Foreign K-Pop Idols Who Have Amazing Korean Handwriting". Article
She watches anime with Jisoo. She says Jisoo always invites her too.
She said the zip line(the attraction that reminds you of Tarzan) was really fun even though it was raining.
The taxi dance she performed on the Knowing Bros. Variety show wasn't planned but since the other members thought it was hilarious, she decided to perform it.
During the filming of her rap in Playing with Fire, Jisoo said it must have been scary and hot for Lisa, although she claimed that it was fun.
Lisa became Céline's muse in 2019.
She became brand ambassador for Chivas Regal Scotch Whiskey in 2022, but her ads cannot be shared in Thailand itself due to its strict law prohibiting the depiction and display of alcoholic advertisements across all forms of media.
Lisa's YouTube channel Lilifilm Official surpassed 9 million subscribers. She is the most subscribed K-pop female solo artist on the platform. (6th overall)

Lilifilm Official enters the Top 10 most subscribed Kpop channels on YouTube in history, she's the only solo female act in the Top 10.
Lilifilm Official has over 400,000 views total.
Lisa's YouTube channel was verified on April 5, 2021.

Lisa's cover of "Say So" debuted in the Top 10 of the Weekly Pop Songs chart on Genius.
Lisa became the first global ambassador for MAC Cosmetics in 2020.
Lisa is the most followed K-pop/Thai idol on Instagram with over 76 million followers. She is the only K-Pop artist and 14th female artist to achieve this.
LILI's FILM The Movie surpassed 8.4M views and 1.6M likes in 24 hours. It has over 80M views and over 3.4M likes overall. It is Lisa's second video and the fastest to surpass 50 million views.

LILI's FILM The Movie debuted at #9 on YouTube's Global Top music videos.

Lisa has over 8 million followers on Weibo.
Lisa is the current spokesperson for the VivoS9 smartphone.
Lisa is the only idol to have over 8 million likes on an Instagram post.
Lisa has ranked #1 on The 5 Most Popular Foreign K-Pop Idols Of Each Year For The Last Decade, from 2016-2021.
Lisa ranked #1 on Weibo Super Star (Asia Pacific region) for Feb 2021.
Destiny Rogers song "Tomboy" was up 1939% in streams on Spotify's update following Lisa's dance performance to it.
Lisa joined the panel for the ANDAM Fashion Award, as a member of the jury in 2021.
Lisa was named as "Inspirational Role Model for Youth Award" by the Thailand Master Youth Club in 2021.
Lisa's Instagram is the fastest in the ent. industry to reach 48 million followers in 2 years 9 months and 2 days.
Lisa ranked #1 in TMI News 'BEST 7 Idols who were chosen by luxury brands'.
Lisa ranked #7 amongst Instagram's Top Music Influencers for March 2021. She is the only Asian influencer in the Top 10.
Lisa ranked #6 in the Top Music Influencers on Instagram in the Worldwide in March 2021.
Lisa was the most tweeted birthday hashtag, with #TheLalisaDay achieving over 5.5 million tweets.
Lisa became Metkstar's Best Kpop Girl for the month of March 2021.
Lisa was the most followed K-Pop artist on Instagram during the month of March 2021.
Lisa won the award for "Inspirational Role Model for Youth Award" by the Thailand Master Youth Club 2020-2021.
Lisa ranked #8 on Instagram's Top Influencers (Music Category) with an engagement rate of 10.24% for the month of April 2021, she remains as the highest ranking for a Kpop idol.
Lisa mentioned she is friends with Ten from WayV, during her choreography of Kick Back on Youth With You Season 3.
Lisa ranked #2 in the Weibo Powerstar Ranking (Overseas Stars Category) for May 2021.
Lisa ranked #2 in the Sina Power Celebrity Charts for influential celebrities from Asia Pacific.
Lisa is the first Kpop female artist to grace the cover of Vogue Thailand.
Lisa surpassed 600,000 followers on QQ Music, being the 3rd member from the group to do so.
Lisa is the second Kpop soloist in history to have an album surpass 700K preorders.
Lisa is the third female artist in history to have an album surpass 300K sales on Ktown4u.
Lisa has over 3 million followers on Spotify, making her the third most followed Kpop female soloist.

She debuted with 85,868 followers on Spotify.
She reached over 28.6M monthly listeners the most for a K-Pop soloist on the platform.
She is the third K-Pop female artist to achieve 10M monthly listeners.
She is the second Kpop female artist to achieve 20 million monthly listeners.
She is the first Kpop female soloist to achieve 20-23 million monthly listeners.
She debuted with 1,500,415 monthly listeners on Spotify in the first 24 hours.

Lisa's M/V Teaser surpassed 1 million views in just 18 minutes on YouTube. It becomes the fastest MV teaser by a female artist to surpass 1 million views on the platform.

It accumulated 11.3M views and 1.7M likes in it's first 24 hours on YouTube.
The teaser debuted at #3 on YouTube Worldwide trending chart and trended at #1 on YouTube in 72 countries.

Lisa has 500,000 followers on MelOn.
Lisa performed on "The Tonight Show With Jimmy Fallon" on September 13, 2021. Lisa is the second K-pop soloist in history to perform on The Tonight Show.
Lisa is the second female artist with a song reaching #1 in at least 60+ countries on iTunes in 2021. The first being fellow member Rosé.
Lisa simultaneously charted with the top 2 spots on the iTunes Worldwide Songs Chart making her the first kpop female soloist in history to reach this milestone.
Lisa is the fourth K-Pop female act to have a #1 song on the Worldwide iTunes Song chart.
Lisa ranked #10 in the Global Digital Artist Ranking. She's the only Kpop Artist in the Top 10 (September 2021) and is currently the best performing K-Pop act across digital platforms.
Lisa debuted at #1 on MelOn Artist Chart (September 2021)
Lisa is the first and only K-pop Soloist and Thai act to enter the IMI International Top 20 singles chart.
Lisa is the second Korean female soloist to earn a top 10 hit on the Digital Song Sales chart.
Lisa debuted at #59 on Billboard Artist 100 Chart and is the highest-charting K-Pop Female Soloist in history.
Lisa debuted at #3 on Billboard Emerging Artists Chart.
Lisa is the first and only Kpop female soloist to spend 2 weeks on the Billboard Global 200 Excl. U.S chart Top 10 (2nd overall).
Lisa is the second kpop female soloist with multiple entries on the US Spotify daily chart.
Lisa is the only K-pop Soloist to enter the Top 300 Most Listened to Artists in the world in Spotify history at #289.

She has the highest peak for a K-Pop soloist at #94 in the platforms history.

Lisa is the second kpop female act to enter the Spotify Global Top 10.
Lisa is the first K-pop soloist/female act to have multiple top 10 entries on both the Billboard Global 200 & Global 200 Excl US chart (2).
Lisa is one of the first (along with Rosé) K-Pop female soloist to be nominated for a MTV EMA award in history.
Lisa is the first Kpop soloist to have 2 songs spend multiple weeks in the top 10 on Billboard Global Excl. U.S. chart.
Lisa is the first K-Pop lead female soloist to have multiple entries on the Billboard Hot 100 in history.
Lisa has over 600 million total streams on Spotify.

She's the fastest and first K-pop soloist in history to reach this milestone for an album (133 days).

Lisa is the only K-Pop soloist to rank on both Billboard Global 200 Artists Year-end chart and Global Excl. US Artists Year-end chart 2021.
Lisa ranked #2 as the Top Female Soloist on Genius Korea 2021 Year End Chart.
Lisa is the only K-pop female artist to have two songs chart at least 100+ days on the iTunes Worldwide Songs Chart.
Lisa ranked #1 on "The 100 Most Beautiful Faces of 2021" by TC Candler.
Lisa is the only K-Pop female soloist to have two videos with over 400 million views and 10 million likes on YouTube.
Lisa has over 1 billion on demand streams worldwide in 2022.