| | |
| --- | --- |
| | Note: This page is just a fanpage. It is a part of the BLACKPINK fanbase and information may not necessarily be considered official or verified by YG Entertainment or the BLACKPINK members. |
Jensoo (Jen/nie and Ji/soo) is the friendship pairing between Jennie and Jisoo.
Other Names
Jinnie (Ji/soo and Je/nnie)
Jensoo (Jen/nie and Ji/soo)
Jisnnie (Jis/oo and Je/nnie)
Jenoo (Jen/nie and Jis/oo)
Jenchoo (Jen/nie and Chi Choo)
Choojennie (Chi CHOO and JENNIE)
Trivia
Similarities
They are both Korean.
They both speak fluent Korean and some Japanese.
Both have brown eyes.
Both can sing.
Both have a pet dog, Jisoo: Dalgom, Jennie: Kai and Kuma.
Both have the last name Kim.
Both can play the guitar.
Both are born in January.
Both have been an MC for a music show.
Both have the same star sign (Capricorn).
Both are keen gamers of the group, especially PUBG and Overwatch.
Both have 5 letters in their first name.
Both of their names start with the letter J.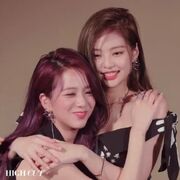 Differences
Jennie is fluent in English, but Jisoo isn't.
Jisoo can play the traditional drums, but Jennie can't.
Jennie joined YG when she was 14, but Jisoo joined when she was 16.
Jisoo was born in Gunpo, Gyeonggi Province, but Jennie was born in Gangnam, Seoul.
Jisoo was born in 1995, but Jennie was born in 1996.
Jennie is an only child, but Jisoo has two siblings.
Jennie has brown hair, but Jisoo has black hair.
Jennie is 1.63m, but Jisoo is 1.62m.
Jennie was born on January 16th, but Jisoo was born on January 3rd.
Jennie had a solo debut, but Jisoo does not have one yet.
Jennie has two dogs whereas Jisoo has one.
Jennie is a rapper while Jisoo is a vocalist.
Facts
Jisoo is 27 years old and Jennie is 26 years old.
They are in the South Korean girl group BLACK PINK .
Jisoo has said on multiple show appearances that Jennie clings onto her often, thus the nickname Jendeukie which is a combination of the words Jennie and Jjindeuk (찐득) which means clingy.
Jisoo has claimed that she is always the one to wake Jennie up.
Their ship name Jenchoo is Jennie's name and Jisoo's nickname Chi Choo combined.
They both were guest MCs on M Countdown.
If Jennie could date one of the members, it would be Jisoo.
Jisoo said that Jennie is her wife.
After 3 days of meeting, they went to a sauna together and had a deep conversation about their dreams, while naked, they became best friends.
When Jisoo and her family visited Jeju Island on vacation, Jennie went with them, she said that Jisoo and her family would not stop eating food.
They featured on episode 409 of "Running Man" together.
Jennie sent Jisoo a food truck while she was on the set for filming her kdrama Snowdrop.